Do you remember the days when the words "brass" and "bathrooms" automatically meant outdated and in need of renovation? Well consider those days over, because there is a new wave of vibrant, modern bathroom fixtures that are taking the design world by storm.
While some may find this recurring trend shocking, it is not the first time we have embraced it as a finish. In fact, brass has long been a cyclical trend that goes in and out of style akin to floral wallpaper. Those of us who love the glamorous, old-world feel of brass can celebrate, because it is back in style and won't be going anywhere for a while.
While brass may be back, it has evolved from the mirror like high-gloss fixtures that have been stripped from so many bathrooms. In its new, hip version, you'll notice an updated look that has a subtle vintage vibe and a finish that is somewhere between polished and matte. This modern appearance gives it lavishness that can't be achieved from the recent popular fixture finishes, chrome and oil-rubbed bronze.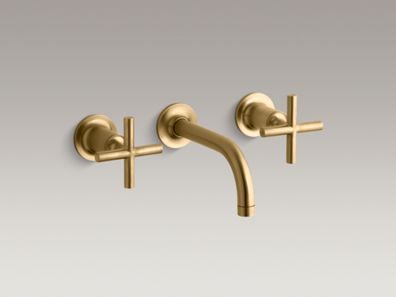 You can find beautiful brass fixtures in a variety of bathroom accessories from tub fillers to towel holders. For example, the brass fixtures pictured above and below are from Kohler's Purist line. The combination of simple architectural forms and the luxury of a brass finish are simply striking. This sophisticated combination is sure to add a fabulous finishing touch to countless bathroom renovations this season.
Before you go out and purchase that brass faucet, remember to keep in mind your own personal style and the room it is going in. Brass is a finish that will enhance many styles and it especially pairs well with other items of glamorous indulgence such as marble and soaking tubs. While it may not be right for everyone, it can easily make the right bathrooms feel fresh and luxurious.
Photo Credit: Greenwich Hotel and Kohler